News and Upcoming Events
Ethnic Dance Festival - San Francisco 2016
Ashwini has been selected as part of a group of Kathak dancers, to perform at the Ethnic Dance Festival, in San Francisco - June 3rd - 19th.
The group is lead by Shambhavi Vase, and includes more than a dozen Kathak dancers and musicians. Ashwini and the group auditioned for the show last year and have been selected to perform during the opening weekend.
Annual Recital and Fundraiser
Program Details
AKDA's annual program for 2016 will be on June 11th, 2016

@ 4 pm
Hickory Ridge High School
7321 Raging Ridge Rd.
Harrisburg, NC 28075.
The proceeds from the event benefit Ekal Vidyalaya. Ekal is a non-profit organisation that is dedicated to providing education and basic opportunities to remote tribal regions of India. Please call or email Ashwini today if you are interested in becoming a sponsor. Last year we raised $3000 for Ekal and with your help we can do even more. Even $101 donation can make a difference, $365 will fund one school for a full year. Please give generously and support this wonderfull organisation.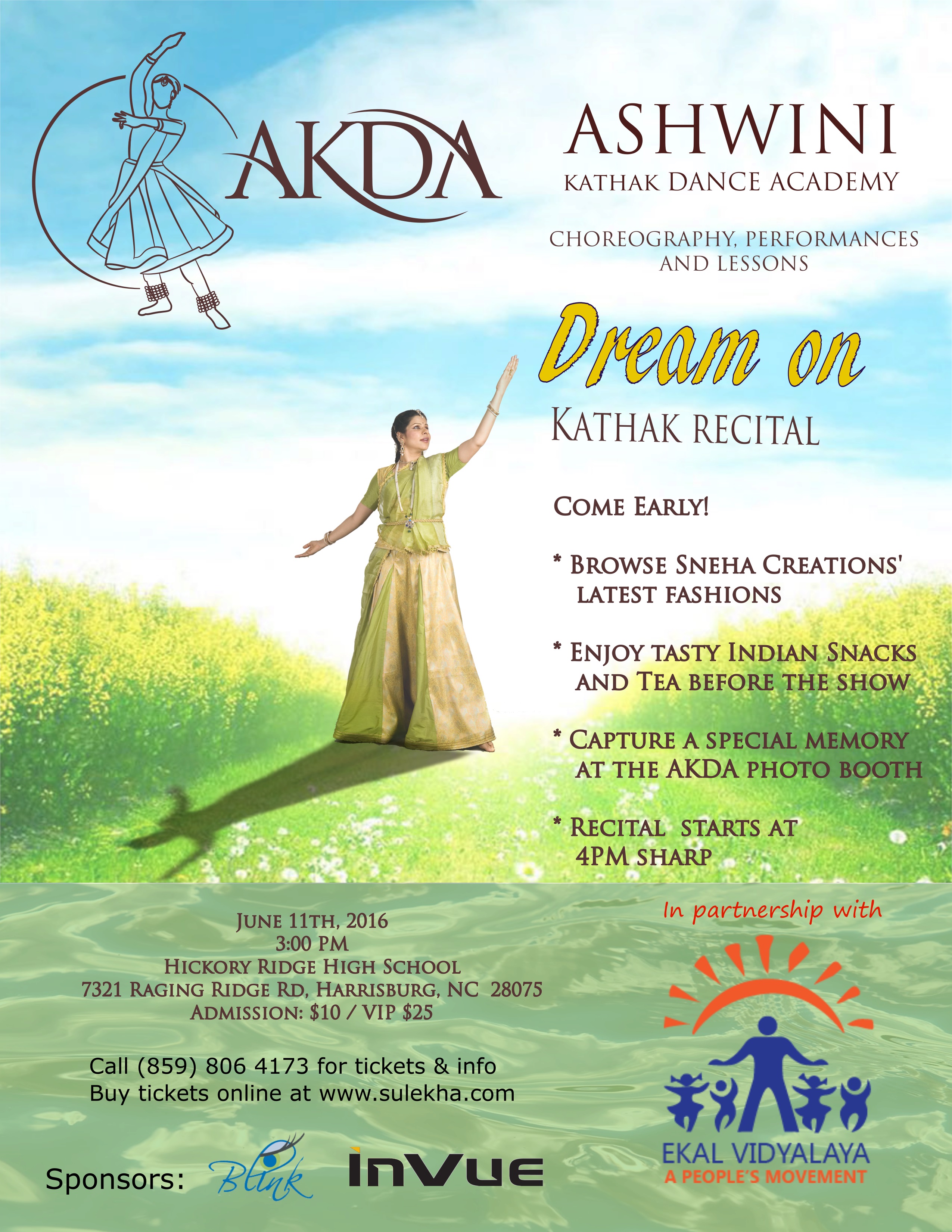 This years annual recital is going to be bigger than ever.
Come early between 3 PM - 4pm to:
Browse the latest indian fashions from Sneha Creations
Enjoy tasty indian street food and chai
capture the days special memory at the AKDA photo booth
buy raffle tickets to win some awesome prizes
The dance program starts promptly at 4 pm.
After the show from about 7:30 - 9pm you can continue to shop, eat and mingle.
Ticket Information
Buy your tickets at the AKDA studio during class hours or online at Sulekha.com
$10 -- General Admission
$25 -- VIP Reserved Seats
Sponsors for the recital:
Carolina's South Asian Women's Alliance
Sneha Creations
Deepa Bakes
Studio Open
Ashwini teaches classes at her own studio right here in Ballantyne. The address is 11038A Cedar Walk Lane

View Larger Map
Contact Ashwini Gogate for further information